Handleless kitchens underline the reduction to the essential and feature clear edges: With TIP-ON and N-DRIVE, doors, pull-outs and drawers can be opened mechanically and close automatically – entirely without handles. In coordination with the purist next125 look, there is also a large selection of clean-cut handles available.
HIGHLIGHT SOLUTIONS FROM NEXT125
Tip-On
A simple impulse with the hand or the knee is sufficient for the drawer or door to open: The mechanical door opening TIP-ON offers great comfort. The fact that the TIP-ON also opens reliably ensures a large release area that works perfectly even on wide and high fronts. Even when closing the damping works perfectly. Another advantage is the perfect joint pattern without handles: With TIP-ON you can plan a simplistic look where the front is not disturbed by anything, only the thin gap between each door is visible.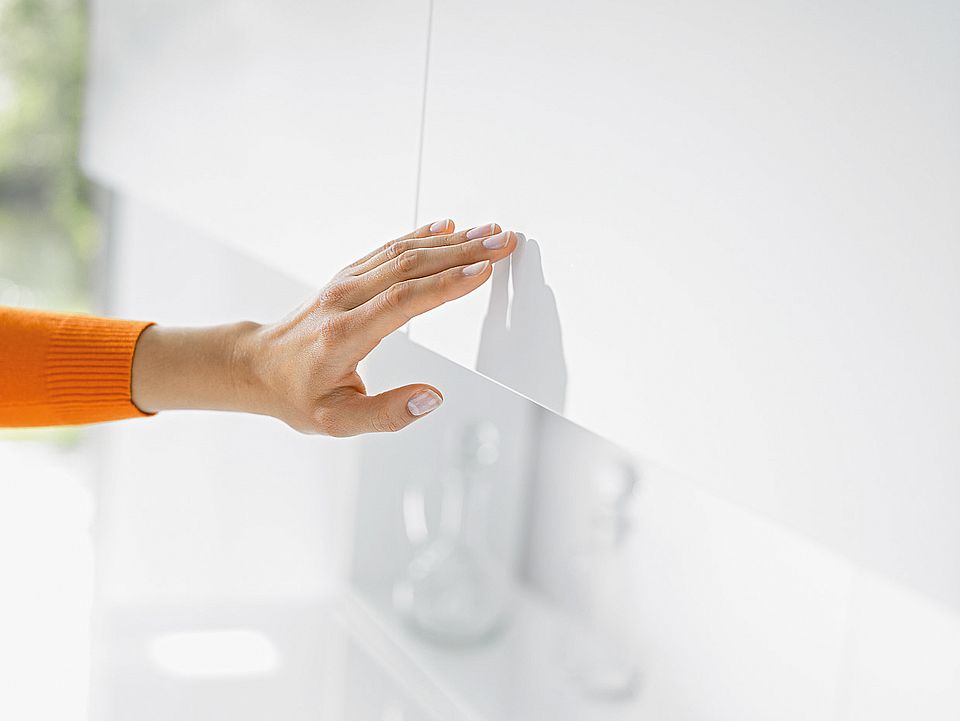 N-DRIVE
The N-DRIVE automatically opens lift-up doors, folding flap doors and climbers at the touch of a button. The N-DRIVE support is a great help, even when opening larger and heavier doors, for example on refrigerators. A combination of N-DRIVE and TIP-ON is the perfect solution for automatically closing wall units with flap doors.
Surface-flush hinged handles
A clear style and cubist design in the spirit of Bauhaus architecture demands innovative solutions for the everyday: next125 has achieved this with the surface-flush hinged handles which enable easy operation of all drawers and pull-outs without disturbing the clean kitchen architecture.