"A Kitchen is not just a kitchen"
Its a place for living. Every individual lives differently, has different feelings, personal wishes and expectations. Let us show you kitchens with personality, every one of which can be planned to suit the individual and feature characteristic elements. Find the kitchen that goes with you and your life.
Whether you are looking for Gloss and Ultra Gloss, Handleless, Matt Kitchens, shaker style kitchens SchÜller expertly cover all of these. With over 300 different designs to accommodate your tastes and budget.
Practically they are superb, with sophisticated storage such as internal drawers, pull out larders, carousel and Le Mans units, pocket doors along with electrical storage such as motorised shelves, there is an endless amount of innovative ideas, SchÜller kitchens aren't just a box with a door on.
Schüller do a variety of different sized base and wall units. Tailored to the building the kitchen finds its home in and the individual using the kitchen. Whatever the height or size of the room ,or whether you're tall or small. Schüller makes their products use-able to everyone. This is called ergonomics.
Our kitchen designs ooze individuality. Here, it is not only about creating visual appeal, like fronts and colours, but also practical aspects like ergonomics, equipment and the demands made on the quality of the kitchen.
Working in the kitchen becomes a truly enjoyable experience when the cupboards are the right height, everything is within reach or not too far away, and all important utensils can be accessed quickly and easily. In a word: when the kitchen is planned in such a way that it is pleasant to work in and doesn't cause you any aches and pains.
The inner values make the kitchen special: thanks to special inserts for drawers and pull-outs as well as wall units and tall units, every plate and every utensil have their adequate place. This way, you always find everything you need really quickly. Because if everything has its own place in the kitchen, cooking is much more relaxed.
The front lends the kitchen an individual look − entirely according to your taste and to your needs. There are laminated fronts, lacquered surfaces, wood fronts and real glass fronts.
Your choice of front gives your kitchen character, lends a touch of individuality. Choose which front suits you best. Elegant or natural? Extravagant, as well? Everything is possible with the fantastic selection of style, look and material!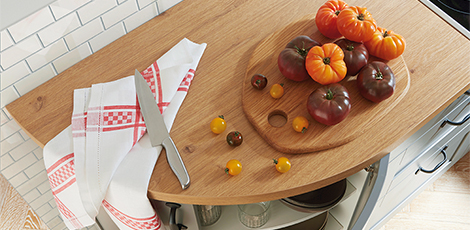 Available in countless options, thicknesses, edges, textures and decors, these worktops are exclusive, individual quality products. They are available in thicknesses 1,6 and 3,9 cm.
Laminate is a proven material for easy-care, decorative worktops. Made up of several carefully matched layers, this material can be used for a whole variety of purposes. Different thicknesses, edges, textures and decors give every kitchen its own personal flair.
The simple tip-on system gives you a completely new free hand in designing your kitchen. Without handles the kitchen front steals the show. Deliberately configured reveals create a space defining, purist look.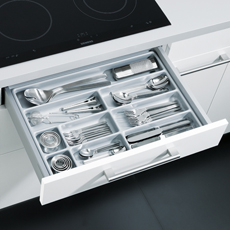 Cutlery insert, laminate silver-coloured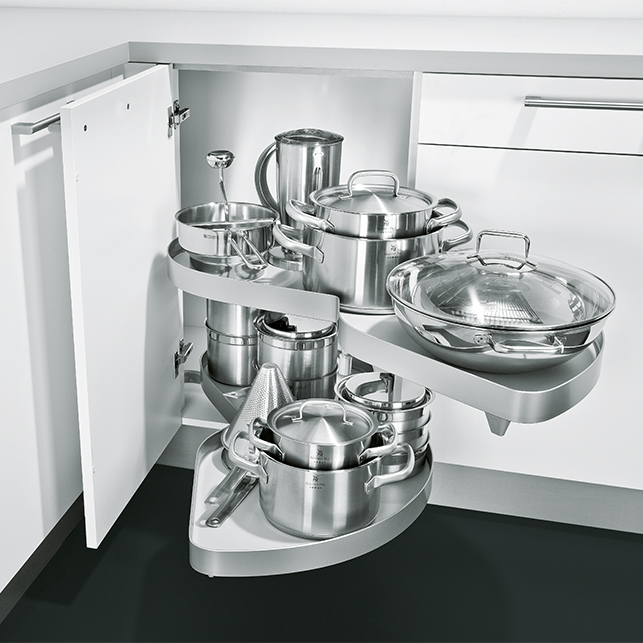 LE MANS swivelling pullout wood shelves with metal band
Pull-out larder unit, wood shelves with metal band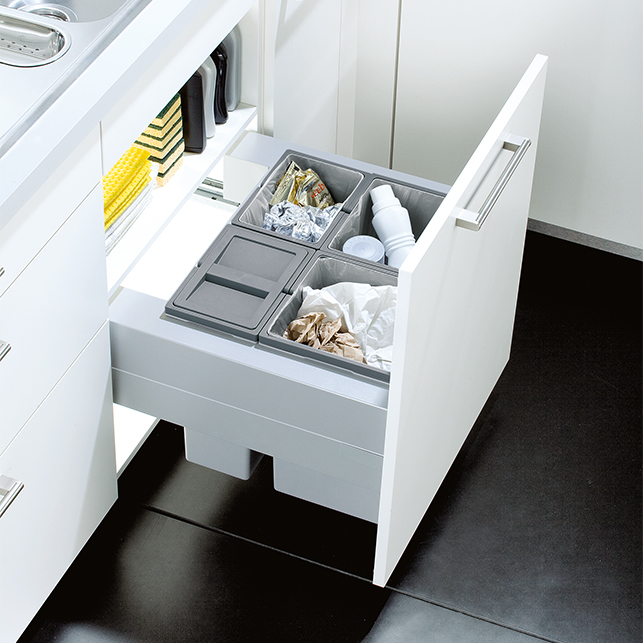 4-part waste sorting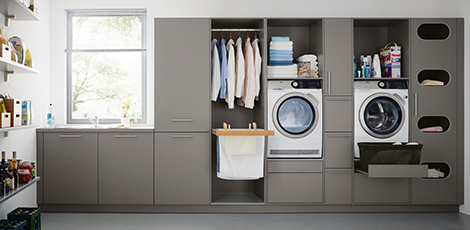 Today, living and utility spaces are often seen in isolation. With living space becoming increasingly limited, there's a need for ideal storage spaces and optimised work flows. The Schüller utility room not only creates a room that's pleasant to work in, it's also tailored to suit any need.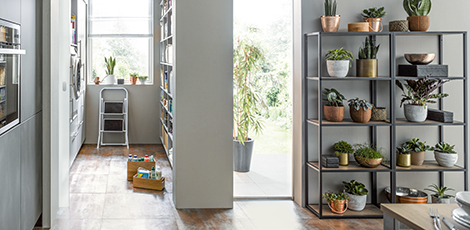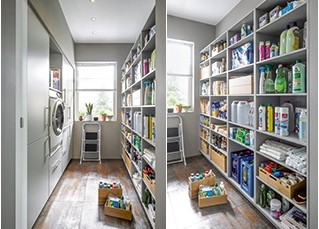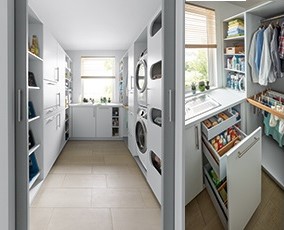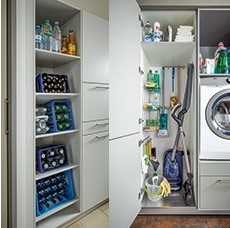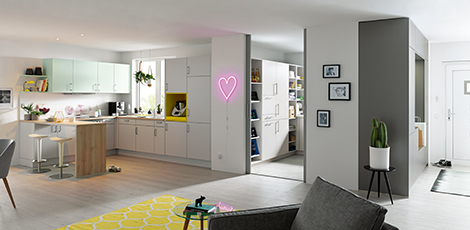 Ever since the kitchen has opened up and increasingly become the heart of the home, where there is often no longer a basement, the question has arisen as to where we should put all the things we need every day but don't want everyone to see.
The utility room – a perfectly planned work area in which you are happy to dry washing out of sight and tidily store away food and drink, cleaning products and even shoes. Everything in one place, exactly where it is needed. Too good to be true?